Originally Published by Columbia Insight
A mysterious hoof disease has been decimating elk herds in southwest Washington for more than a decade. As the disease spreads into eastern Washington, Oregon and Idaho, Washington State University (WSU) prepares to open a $1.2 million research center devoted to studying how the disease is caused and transmitted.
After a long and controversial investigation, researchers with the Washington Department of Fish and Wildlife (WDFW) associated hoof disease with bacteria known as treponemes. However, a vocal coalition of hunters, conservationists and concerned citizens have come to believe that the root cause is a toxic brew of chemicals routinely sprayed by industrial timber companies.
As WSU's College of Veterinary Medicine takes the reins of this high-stakes investigation, will researchers finally study the public's longstanding hypothesis? Or will more delays and inaction continue to fuel accusations that powerful timber and chemical interests have overwhelmed the possibility of an honest investigation into the true cause of elk hoof disease?
Elk hoof disease is a grisly condition typically producing deformed hooves that overgrow until they resemble claws, or sometimes curl upward like elf slippers. Once overgrown, hooves can snap and break, resulting in bloody stumps, infected abscesses, and rotting flesh. One can only imagine how excruciatingly painful these conditions must be for the elk, and they frequently prove fatal.
Witnesses of elk hoof disease tend to be profoundly affected by the experience. Rural denizens often become teary-eyed or furious when describing scenes of diseased elk limping into their backyards and then lying down to die, sometimes feasted upon by predators while they are still alive. Along with deformed hooves, hunters report that affected elk often sport nightmarishly deformed antlers and internal organs that are discolored and putrid. Some hunters refuse to eat the meat for fear of contamination.
Observed in the Pacific Northwest for over twenty years, by 2014 elk hoof disease was ravaging elk populations in what is considered the disease epicenter of southwest Washington. Today, nearly every herd throughout the Willapa Hills and around Mount St. Helens is affected, some with up to 90% of elk limping in various herds. Once thought restricted to southwest Washington, confirmed cases of hoof disease have appeared in King, Skagit, Whatcom and Mason counties of northwest Washington. Additional cases have been reported throughout Oregon, while recent articles document an eastward expansion of the disease in Klickitat County, the Blue Mountains of Walla Walla County, and near White Bird, Idaho.
Throughout the years, numerous theories about the cause of elk hoof disease have circulated among the public, but none has had more lasting power than the notion that forest chemicals – particularly commonly sprayed herbicides such as glyphosate, atrazine and 2,4-D – are at the root of the problem.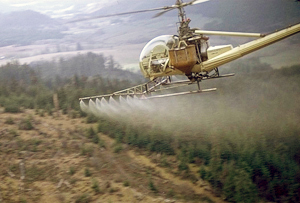 There are at least four plausible hypotheses for how toxic forest chemicals may be the root cause or chief contributing factor of elk hoof disease. The first is that herbicides are known to dramatically reduce the quantity and quality of forage for elk, and that alone can cause hoof problems as farriers have testified. Indeed, the very purpose of herbicides is to destroy unwanted vegetation, and unfortunately for elk feeding on industrial timberlands, herbicides can reduce their favorite woody plant species by up to 70%. The forage that remains after the herbicides defoliate is of questionable quality, and likely a factor in researchers declaring that the Mount St. Helens herd is in poor nutritional condition.
The second hypothesis is that the immunotoxic properties of forest herbicides such as atrazine are weakening the immune systems of elk and making them susceptible to a plethora of bacteria and diseases they had previously been able to ward off. Atrazine is one of the most commonly sprayed forestry herbicides despite being banned by the European Union in 2004 because of persistent groundwater contamination. According to a report by the National Toxicology Program, which is administered by the U.S. Department of Health and Human Services, "atrazine was found to adversely affect the immune system and, thus, is considered to be an immunotoxic compound."
The third hypothesis is that the chelating properties of herbicides such as glyphosate (the active ingredient of Roundup and another commonly applied forest chemical) strip the soil of vital micronutrients and make them unavailable in the forage that elk depend on. In fact, WDFW's own research has shown that deficiencies of copper and selenium are associated with keratin irregularities which can cause not only hoof deformities but antler deformities as well.
The fourth hypothesis was provided, coincidentally, by a WSU researcher unaffiliated with the College of Veterinary Medicine. Dr. Michael Skinner has recently received significant media coverage for demonstrating that exposure to glyphosate alters the molecular make-up of DNA, which can negatively impact physiology and promote numerous diseases that did not previously exist. Disturbingly, these epigenetic changes are inherited by generations to come. Though Dr. Skinner's experiments were conducted on rodents, he believes that glyphosate exposure likely produces similar results in all mammalian species.
"The link with the hoof disease is expected to be linked to such a phenomenon as well," Dr. Skinner wrote. "The ability of the elk to respond to a parasite or infections will be altered and thus promote disease that decades earlier did not exist … It is not possible to link it to one exposure like glyphosate, since many different exposures exist today that impact epigenetics, but it is a likely component in the exposures the elk get compared to decades earlier."
Altogether, the notion that herbicides and other forest chemicals may be causing elk hoof disease is far from the wacky conspiracy theory that some industry-funded researchers and organizations have tried to portray it as. To the contrary, it is a robust working hypothesis supported by ample scientific evidence and one of our nation's leading researchers on the subject of herbicide exposure.
Proponents believe the herbicide theory also helps explain the timeline and geographical distribution of elk hoof disease. They point out that the disease began shortly after herbicide sprays became widespread on industrial timberlands and that it has only been documented in areas where elk are routinely exposed to chemicals. Observers note that maps depicting reports of elk hoof disease show the highest concentrations in areas managed by large industrial timber companies, whereas reports have been extremely rare in the more natural ecosystems of Mount Rainier and Olympic National Parks.
Hunters and wildlife advocates question why timber companies continue to spray herbicides like glyphosate, atrazine and 2,4-D over vast swaths of elk habitat despite their apparent toxicity. The answer is that herbicides – and the adjuvants and fertilizers that often accompany them – have become a profitable complement to modern industrial forestry. In recent decades timber companies have genetically modified Douglas fir seedlings to make them mostly resistant to the adverse effects of these chemicals. Vegetation less profitable to the timber companies is destroyed, and the industry's cash crop can grow more quickly without as much competition for water and sunlight, and without as much nuisance from pests.
Despite the public's concerns for more than a decade, WDFW never rigorously explored the link between forest chemicals and elk hoof disease. Instead, WDFW officials announced in June 2014 that they suspected bacteria were the culprits and renamed the affliction "Treponeme-Associated Hoof Disease." The dubious term is still in use today, though not without scrutiny. Critics have pointed out that some infected elk have tested negative for treponemes, while perhaps half of the members of WDFW's Elk Hoof Disease Technical Advisory Group stated publicly that bacteria alone weren't a cogent explanation for the disease, and that broader environmental factors were likely at play.
"You're mentioning lots of different bacteria," said Dale Moore, an expert in preventive medicine at WSU and member of the advisory group. "That's one piece of the puzzle … but there are other things that seem to be missing in the puzzle. Big pieces. The big pieces are the environmental factors and why this particular region and not other regions."
The public's distrust of WDFW's investigation intensified when muckraking hunters helped prove that WDFW's hand-picked herbicide expert had made false claims about the safety of forest chemicals and was employed by a company that has represented herbicide manufacturers for product liability concerns.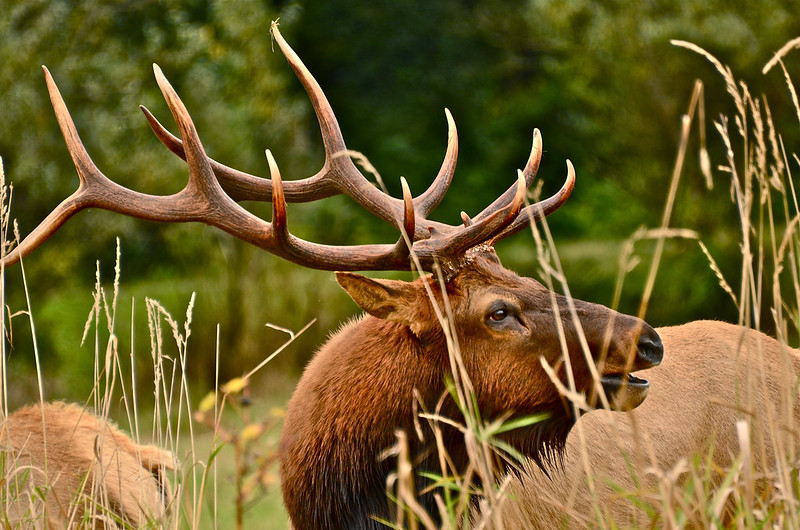 Driven by wildlife activists and agricultural interests concerned about the potential spread of hoof disease to livestock, in April 2017 the Washington State Legislature unanimously passed Senate Bill 5474, which was perceived as an official vote of no confidence in WDFW's investigative efforts. Among other stipulations, the bill made WSU's College of Veterinary Medicine the new lead organization tasked with developing a program to "monitor and assess causes of and potential solutions for elk hoof disease."
In August of 2018, WSU hired Dr. Margaret Wild to lead the new investigation. A former chief wildlife veterinarian for the National Park Service, Dr. Wild has conducted research on numerous species and studied chronic wasting disease in elk for more than three decades. Since taking the reins, Dr. Wild has surrounded herself with a team of researchers and overseen construction of a four-acre, state-of-the-art facility in Pullman where elk will be studied live in captivity. The facility is expected to be operational by the end of this year, and Dr. Wild expects preliminary experiment results from captive elk studies by next winter.
A primary focus of Dr. Wild's team will be to determine if the disease is infectious and contagious and if it can be reproduced in elk following exposure to infectious material. Dr. Wild concurs with WDFW that treponeme bacteria are associated with the disease but speculates that there are multiple bacteria at play. She is also open to the possibility that bacteria are not the primary cause but perhaps merely secondary invaders. Cognizant of the public's theory that forest chemicals are causing the disease, Dr. Wild acknowledges that environmental factors such as herbicides and the overall health and nutrition of elk need to be investigated. Dr. Wild is also planning to investigate the antler deformities often associated with elk hoof disease and has consulted with Dr. Skinner about how her team might conduct a pilot study researching possible epigenetic impacts due to herbicide exposure.
"I don't want to take anything off the table," she has stated.
Hunters and concerned citizens who have long-awaited answers to the elk hoof disease mystery will have to remain patient for a while longer if they desire an honest and thorough investigation. According to Dr. Wild, it will likely take multiple experiments to fully understand the nature of elk hoof disease.
"The scientific method is not always fast," Dr. Wild wrote, "but where properly employed, its rigorous approach provides confidence in the results we obtain both to the scientific and medical communities as well as to lay people whose tax dollars support this important work."
Despite a sterling resume and encouraging updates, longtime followers of WDFW's fruitless investigation have maintained a "wait and see" posture toward Dr. Wild's forthcoming studies. While the hope is that Dr. Wild's research will be honest and courageous, hunters and wildlife activists question whether WSU can resist the same forces they believe resulted in an inadequate investigation by WDFW. With abundant collaborations between WSU and the timber industry, it will be up to Dr. Wild and her team of researchers to prove that they are truly faithful to the scientific method wherever it may lead.